Popcorn Hour NMT A-100 Beta Information
As most companies these days, Syabas/Popcornhour have their share of non-paid beta testers around the world. They get access to beta firmware and a separate sub-forum on the Networked Media Tank forum site where they can discuss problems and solutions. Syabas/PCH is fairly active on this forum, so it appears to be working well although the clue factor varies a lot from beta tester to beta tester creating a lot of noise. Anyway, I decided to join the ranks, and was admitted. Probably with an application bordering overkill, with 20ish suggestions and bugreports attached…
No NDA or anything like that, so presumably I'm allowed to talk about upcoming releases but in general try to keep partially working beta releases away from Joe Public. So I'll try to keep a small beta tester diary here in case you're interested. Feel free to leave comments for particular features and I'll see what I can find out. Newest stuff at the bottom.
Feb 2. 2008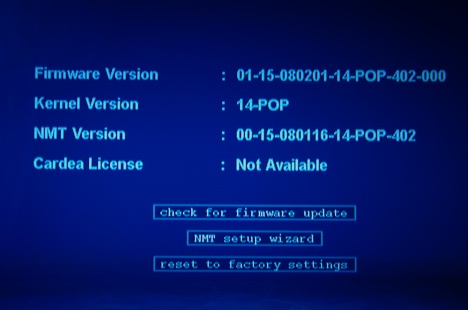 This release is mostly about audio and video fixes. Aspect ratios, PAL fixes, audio/subtitle staying the same even after a time seek in MKV, various bug fixes, etc. Twenty named fixes in all. The main feature improvement is the ability to change brightness, hue, saturation and contrast on the fly while watching a movie. All you do is press Setup on the remote, and then up/down on the wheel to select type and left/right on the wheel for percentage adjustment. At the moment, these values are reset when you stop playback, but keeping state has been discussed. Will most likely be a single state for the player, although some beta testers want per movie. The latter is most likely utopian and quickly leads to more features needed for clearing all individually set parameters etc. Snap of top left hand corner of my TV showing this feature, highly exciting.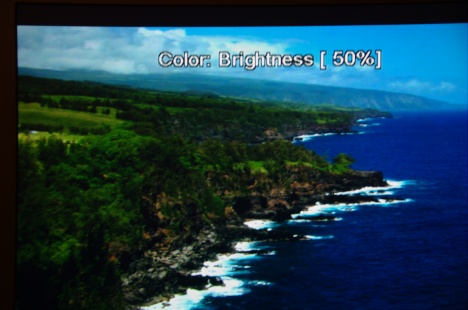 There was no update to the applications package this time around.
No feedback from Syabas on the list of bugreports/suggestions I sent in with my beta tester application other than that they're being verified by QA.
Feb 22. 2008
New beta release out 30 minutes ago. Not tried it out yet, but here is a quick rundown of what it claims to fix. First off, the TS aspect ratio problems some people have experienced have gotten a fix. There is a first try of VDR support included, with some restrictions. Never used VDR files myself, presumably video capture files? They've also added SCART support, and lo and behold, the four coloured buttons on your remote are now mapped to the four file types on the main menu. I.e. Red for movies, green for audio etc. In additon to this, some work has been done on the network share handling, mostly bugfixes. Initial support for the A-100 acting as a Digital Media Renderer (DMR) has also been added. More information about that standard can be found on http://www.dlna.org/. Finally, there is a small handful of bugfixes, nothing too exciting.


Mar 10. 2008
Minor release this time around, primarily just to fix the YouTube/GoogleVideo problems people have been seeing in the previous beta. This is a release candidate for the next public release, so if no showstoppers are found then this one goes out the door fairly shortly.
Mar 27. 2008
A new major beta release out, with 35(!) named fixes and new features. The Feb 22. beta was released to the general public on March 14, with only minor changes. So this new beta contains only brand new changes not seen in earlier betas. Most of them are bugfixes, but there are a few noteworthy additions as well. First off, you can now decide whether to mount NFS over TCP or UDP. Five new languages have been added, though I've never really seen the usefulness of this. And 1080i59 has also been added as a video mode. Other than this, there are a ton of bugfixes around subtitles, aspect ratios, audio/video playback and all round stability issues.
As always, if you have specific tests you want me to try out so you can see if Your Bug[TM] has been taken care of then let me know in a comment.
Apr 3. 2008
New minor release. Fixes aspect ratios, problems with video playback not working after streaming certain video/audio file types. The BitTorrent scheduler now as a user interfac, unbreaks the Flicker support and finally more fixes for the browser. This is a release candidate unless beta testers find any showstoppers so expect a new public release soon.