There are now officially six thousand, three hundred and forty-nine different Asus products bearing the name Eee. Or there abouts. Including a game controller called Eee Stick, which apparently . I'm primarily interested in the sub-notebook variants though, like the ASUS Eee PC 901
. Shown here are the limited edition Korean pink and lime-green versions dropping in a couple of days, whereas the rest of the world will have to content with the black and white versions for a while yet.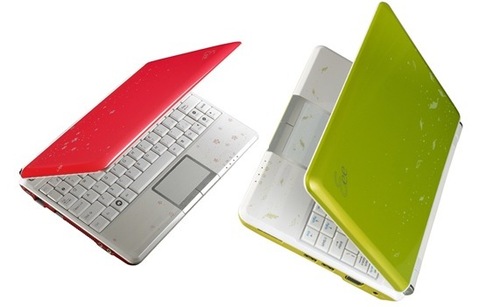 Anyway. In a couple of months I'm off on vacation to Australia for five weeks, and would really like to bring a laptop to be able to check the weather for the next few days, book interesting excursions a few days in advance, check email, upload travel photos to home server etc. My trusty old ThinkPad T41p (best laptop ever) has performed that job for several years, but its days as a holiday computer are numbered. I need a sub-notebook. Any will do, as long as it's cheap, small, lightweight and has a battery capacity of 4-5 hours at least. Screen, keyboard and looks are secondary objectives.